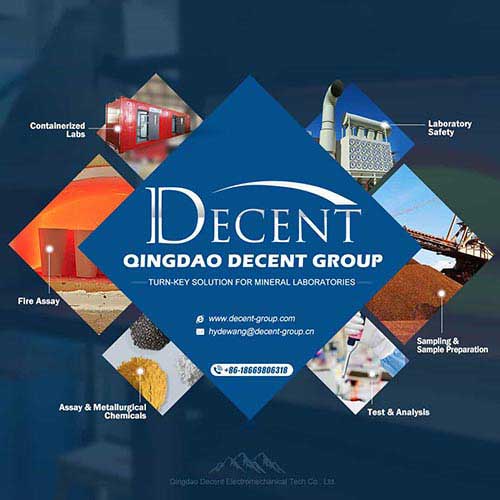 QINGDAO DECENT GROUP
consists of
- Decent Group Limited.
- Qingdao Decent Electromechanical Tech Co., Ltd.
- Qingdao Mars Labtech Co., Ltd.
- Hunan Kilnsware Industrial Ceramics Co., Ltd.
which are high-tech enterprises to provide services and solutions for mineral laboratories, including design and research, equipment, tools and consumables manufacturing and procurement, test and analysis process training etc. With professional knowledge and skills, extensive experience, strong in-house production capability and reliable supply chain, we deliver not only products but also promise.
TURN-KEY SOLUTION FOR MINERAL LABORATORIES
Qingdao Decent Group strives to provide Turn-key Solution for mineral laboratories, that is research and design, complete equipment, tools and consumables manufacturing and procurement, commissioning and delivery, on-site installation and commissioning, operation training & consultancy, mainly including the following contents:

CORE BUSINESS
We dedicate ourselves to provide comprehensive mineral laboratory solutions, manufacture mineral lab test & analysis machinery products with creative design, advanced technology, environmental protection, high efficiency and energy-saving technology, and achieve the maximization of value for global laboratory customers.
HONOR
With continuous development and innovation, Qingdao Decent Group won innumerable honors, including certificates awarded by government organizations, media and market research agencies etc. Qingdao Decent Group is proved by honors such as ISO certification, EU CE certification and Patent certification.
CORE COMPETENCE
• Strong in-house manufacturing ability ensures the best control in quality, cost and lead time and save time and cost for customers.(Factory Tour)
• Around 50-years-experience mineral specialist team, over 20 years experienced R&D team and Marketing & Sales team offer professional and prompt responses to customer needs and market trend. (Our Team)
• Conscientious, responsible and professional production team and QC team provide premium quality products and on time and in full delivery.
All above are solid bases of our core competencies: Strong Technical Strength, Professional Customized Service and Internationalized Operation System.

VISION
Based in China, Qingdao Decent Group wants to be one of the world top developers, manufacturers, service & solution providers of laboratory technology, equipment, tools and consumables.
MISSION
Offering products with superior quality, reasonable cost and cutting-edge technology to better serve our honorable customers and partners.
SOCIAL RESPONSIBILITY
"and let us not grow weary of doing good, for in due season we will reap, if we do not give up." (from Galatians 6:9)
This is our belief.
We believe business can be more decent and we can do something for the world to make our business sense and meaningful.